White Rose Hosts Dallastown Educators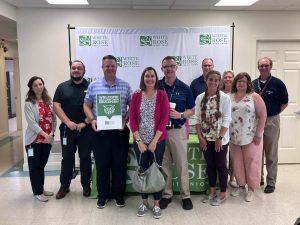 York, PA – White Rose Credit Union recently hosted a group of educators from Dallastown Area School District at the Corporate Office location for a tour and round table discussion.
The group toured local businesses to learn more about workforce development opportunities and employment outlooks for a variety of different career fields. The district utilizes these discussions and incorporates the feedback and ideas into their instructional planning.
During their meeting at White Rose, the educators held an open discussion with the credit union's President/CEO and Human Resources Vice President about the financial services industry's current state, employment outlook, and various opportunities.
The team also learned about the various financial education opportunities available to local school partners from the marketing department.
Dallastown Area School District continues to work with local partners to incorporate relevant experiences into their education program to prepare students for the post-graduation world.
Follow us: Facebook | Instagram | LinkedIn | Youtube
---
White Rose Credit Union is committed to improving the lives of our members and community – and inspiring others to do the same. It's our community. We care.
The credit union operates 5 public branches, a local high school branch, and currently provides a full array of financial products and services to over 11,000 members. As a community credit union, membership is available to those who live, work, worship, attend school or own a business in York and Adams County Pennsylvania. It's your life. We care. Federally insured by NCUA.